Lynn Shelton's Your Sister's Sister seems to have cemented her reputation as a significant presence in what might be termed a post-mumblecore tendency in some indie film, following her earlier titles such as My Effortless Brilliance (2008) and Humpday (2009). What characterises such films is a sharing in some of the relatively rough-and-ready, very low budget style of mumblecore with a degree of more conventional plotting and dramatic scenario.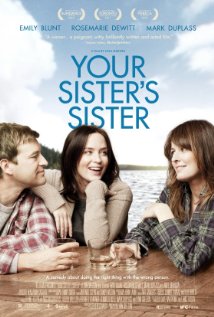 Humpday is a good example of this, very mumblecore in its general texture but with a stronger 'hook' than is normally associated with the form and in this case one that leans more towards the material of exploitation cinema – in promise at least – in the shape of the drunken agreement of its two male protagonists to make their own DIY porn movie.  This creates a greater sense of dramatic tension and movement towards a 'big' plot point than is the norm for mumblecore or some other forms of low-key indie film – but it doesn't really 'deliver' in that sense, the discomfort of the two protagonists around the enterprise, from which neither feels able to back down, being likely to be shared by the viewer and not leading to any consummation.
Your Sister's Sister also has a narrative shape and plotting that is more conventional than most of the films associated with the drifting narrative tendency of mumblecore, in the various dramatic tensions created through its central relationships triangle. This is accompanied by a more mumblecore style at the level of dialogue and general low-budget resonances (the latter including a harsh sound quality that is often as clear a marker of low budget as anything in the visuals). The result is an effective mix. I particularly like the way the film blends elements of comedy – occasionally laugh-out-loud – with a more serious modality. It manages the tricky balance of including some of the former without at any time undermining the impact of the latter, in a piece in which we're meant to feel a real emotional pain on the part of the progatonists, an ingredient that's also found in much of mumblecore.
Whether or not mumblecore itself has now had its day remains open to debate. I've written more about this in Indie 2.0 and it is certainly the case that a number of filmmakers associated with the label have move some degree more towards the mainstream or towards more conventional indie filmmaking. But not always very far and not at all in at least one prominent case, Joe Swanberg, who continues to produce an extraordinary number of films very much in line with his earlier micro-budget mumblecore features such as LOL (2006) or Hannah Takes the Stairs (2007). Swanberg had at least six films on release last year (Uncle Kent, Silver Bullets, Art History, The Zone, Caitlin Plays Herself and Autoerotic, the latter co-directed by Adam Wingard). Is this a record? Some would argue this is because his work is so rough-and-ready and almost thrown together rather than anything of which to be proud (and his films are far from to everyone's taste) but it is notable that at least one of the key figures associated with mumblecore from the start (in 2005) has resisted any urge to conform to more established indie or crossover dynamics and continues entirely to do his own thing. Filmmaking of this kind also raises interesting questions about the boundaries between that which is accorded 'legitimate' indie status or is declared to remain in a less valued 'amateur' realm – but it also suggests some ways in which these boundaries have been blurred in recent years, as a result of factors including the availability of incredibly cheap filmmaking apparatus. That again is something I explore further in Indie 2.0. Not that I'd want to keep plugging that, or anything!